Paint My Poems: Breath of Life Style
As an amateur painter, I let my emotions guide me as I paint what I hear in the music. Music creates abstract paintings by setting the tone and helping to choose colors and shapes. The emotion of line, shape, and color forms abstract artwork to reflect the sound.

My abstract art is not pre-planned, and I allow the colors to intermingle and reveal their vibration as I surrender to the percussive experience of the brush hitting the canvas. There is a message in the chaos and that is to experience beauty rather than try to control it.


Welcome to a world of colors, sounds and emotions - a world where abstract art meets music and vibrates with life. I invite you to experience the beauty of chaos as I create stunning artwork that reflects the interplay of colors and emotions. With each stroke of the brush, I deftly weave together a tapestry of hues that dance across the canvas, creating a symphony of color that is both captivating and mesmerizing.

Drawing inspiration from a range of musical genres, I allow the rhythm and melody to guide my artistic process, infusing each painting with a unique energy and emotion. The result is a collection of artwork that is as dynamic as it is beautiful, each piece an expression my journey through life.

My digital interpretations of paintings can be found on Society6, where tote bags and pillows are some of my favorite options. I have also started selling original acrylic paintings on Etsy and art-derived products on Redbubble.

Coming soon on Breath of Life Style: original abstract paintings for sale. Check back in July!

From stunning digital designs on Society6 to original acrylic paintings for sale on Etsy, Breath of Life Style offers a range of art-derived products that are perfect for any home or office. So why wait? Click on the link now and experience the beauty of abstract art for yourself!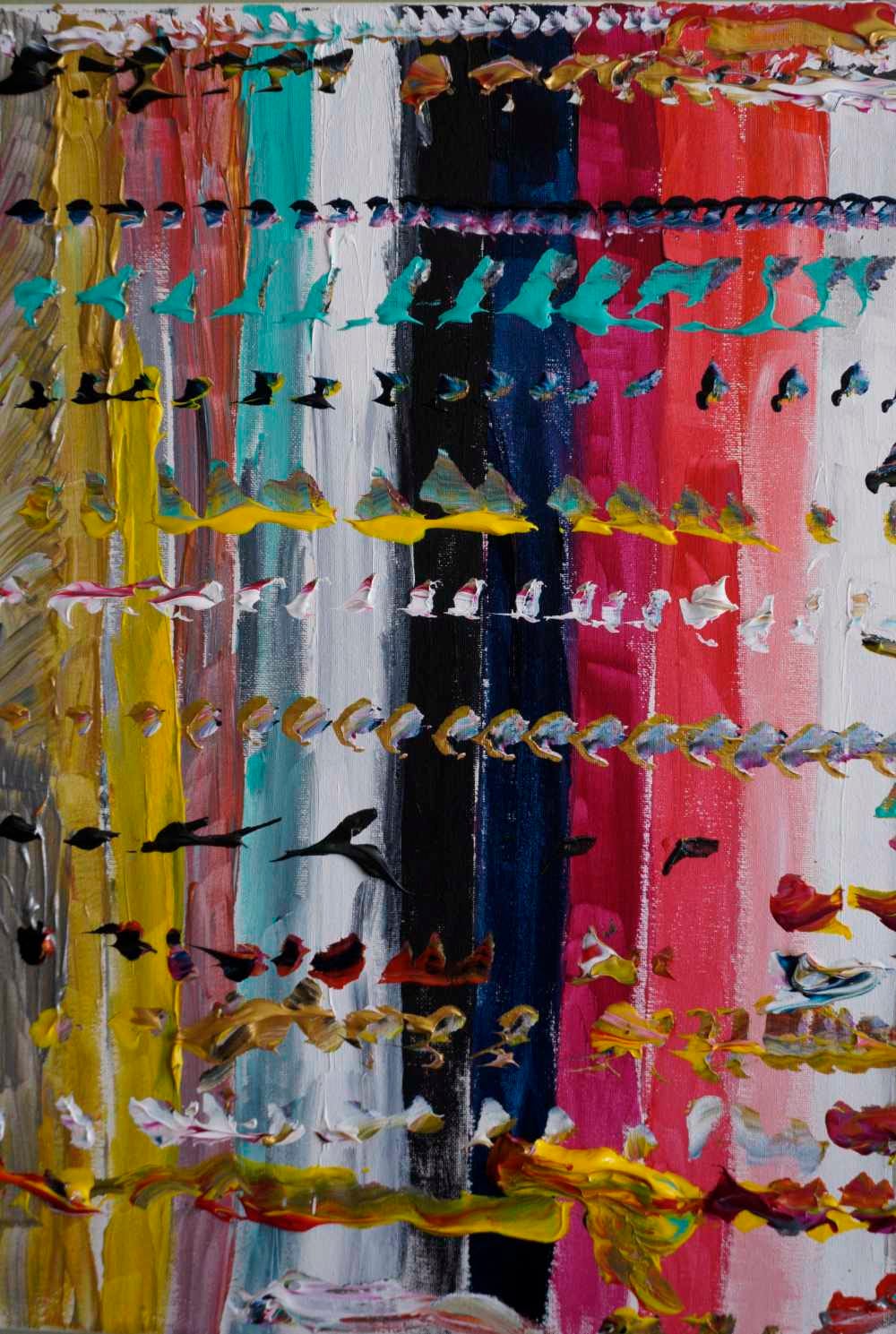 Where to Buy My Art: Society6 Tote Bags (and more)
Tote Bag in Gemini Has the Psych Blues
These Society6 tote bags came out so cute. Film shots seem to work well for merch due to the built-in aspect ratio. Original image was a self-portrait on Psych Blues 2 film.
Material Girl Tote Bag

Cause everybody's living in material world, and I am a material girl. This tote bag uses a film image shot on Cinestill 800T. For your kitschy glam needs this design incorporates 80's-inspired makeup and 90's fashion.
Content from Vimeo can't be displayed due to your current cookie settings. To show this content, please click "Consent & Show" to confirm that necessary data will be transferred to Vimeo to enable this service. Further information can be found in our Privacy Policy. Changed your mind? You can revoke your consent at any time via your cookie settings.
Consent & Show
Video Review: Gemini Has the Psych Blues Tote Bag
See the bag IRL in this very short video. I'm always walking around the city so these are likely to carry various cameras. Some wear their hearts on their sleeves but I wear mine (my art=my heart) on my bag.
Where to Buy My Art: Paintings and Art-Derived Designs
Paintings On Etsy

A few of my original acrylic paintings are available on Etsy. I may add more as I continue to create paintings and run out of room. Peppermint Patty Red Lips is whimsical and cute as the title implies. My paintings look beautiful in natural sunlight and also look cool at night in lower light.
Clothing, Art and More on Redbubble
My photography and paintings look unique as clothing, housewares, and wall art. Check out my store on Redbubble for wearable art and decor that will add some color therapy to your daily life. I think of my paintings as poetry and I hope you do too.
Color Dance Framed Print on Society6
Color Dance was one of the first paintings I created when I left the corporate world in spring of this year. I don't think I'd sell the original as looking at it reminds me of this freedom. However, you can buy an art print if you love it. The best thing about my abstract art is that it can be placed in any orientation you desire.
Content from Instagram post can't be displayed due to your current cookie settings. To show this content, please click "Consent & Show" to confirm that necessary data will be transferred to Instagram post to enable this service. Further information can be found in our Privacy Policy. Changed your mind? You can revoke your consent at any time via your cookie settings.
Consent & Show
Content from Instagram post can't be displayed due to your current cookie settings. To show this content, please click "Consent & Show" to confirm that necessary data will be transferred to Instagram post to enable this service. Further information can be found in our Privacy Policy. Changed your mind? You can revoke your consent at any time via your cookie settings.
Consent & Show
Content from Instagram post can't be displayed due to your current cookie settings. To show this content, please click "Consent & Show" to confirm that necessary data will be transferred to Instagram post to enable this service. Further information can be found in our Privacy Policy. Changed your mind? You can revoke your consent at any time via your cookie settings.
Consent & Show